The outbreak of the deadly coronavirus across the globe has changed the lifestyles of individuals and businesses in many different ways. Amid the COVID-19, many countries have imposed stay-at-home orders, school closures, non-essential businesses shutdown, social distancing, face covering when out in public and other measures as needed, with only one objective – to curb the dire virus from spreading. All these unprecedented moves to save more lives have led to the halt in economic growth, a difficult but crucial decision forced to be made by many leaders in the world. What are the consequences of the lockdown? Without a doubt, many brick and mortar businesses have been badly impacted, but what about the virtual online businesses? How are they impacted by this once-in-a-century pandemic? In this article, we will provide you some insights based on the transactions in FraudLabs Pro. The transaction data will be presented by weeks of the year 2020, so that you could have a clear picture of the impact during the coronavirus outbreak.
Which Industries are the clear winners?
According to the data, the online gaming industry has recorded a huge growth in sales during the pandemic. The soaring in the sales transaction is not hard to imagine. With the school closure, stay-at-home order, and fear of infectious coronavirus that have impeded many people from venturing out from the house. Therefore, what else could be the best alternative to kill their time, a lot of free time? Playing online games is one of the easiest and affordable options to choose from. Fueled by ubiquitous high bandwidth of internet and convenient online payment, this has sent the industry skyrocketing. Not to mention how additive a game could be, and how generous some gamers are willing to fork out extra money to gear up or upgrade their gameplay.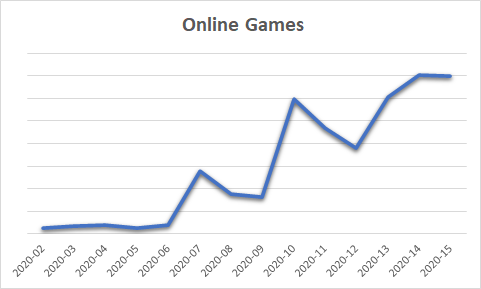 Not a surprise also that the digital content business, such as media streaming, digital download, has been benefiting from this pandemic, when many people are stuck at home. From the data we observed, there is an approximately 60% increase in transactions over the past several weeks. Netflix, for example, had been forced to reduce its video streaming quality to limit the soar of bandwidth usages in many countries, such as reported in Canada and Europe.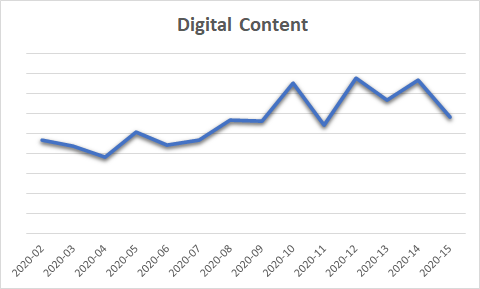 The mandatory self-isolation has changed many people's normal habits from shopping in physical stores to online purchases. This has inevitably taken the e-commerce business to a new high. From our data, the transactions have gradually increased from week 11th (early March) onward. If you checked back on the coronavirus development, you will notice that many countries, during this period, have been greatly worried about the acceleration of the virus infection, and therefore imposed even more stern measures to try and contain the virus spread. This has, on the other ways, spurred the growth of e-commerce as online purchase became the only and safest channel to get medical supplies, foods, essential items and other daily needs.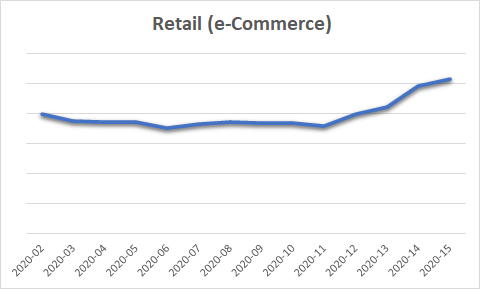 Which industries are the total losers?
Accomodation, traveling and ticketing industries have been severely impacted by the pandemic. They have all encountered a very painful and drastic plunge of transactions amid the outbreak, as you can see the sharp fall in transactions from the below charts. It has especially severely impacted the travel and accommodation industries, which had suffered more than 80% drop in business. The reasons could be that many countries have imposed country lockdown measures by not allowing foreign visitors to enter their countries. In addition, stranded visitors are also not allowed to leave the countries for home until the restriction is lifted. Airports have been ordered to shut, public transportations have been scaled down or entirely ceased, and tourist attractions have been closed. As a result, this has caused the travel and accommodation industries that were heavily relying on tourism to suffer the hardest hit.
Also, due to the stay-at-home order, all non-essential activities have been canceled. There will be no cinemas in operation, no events being organized and no laughter in the theme parks. There is absolutely no demand for the entrance tickets which some people will buy online for a discounted price or for the sake of convenience. Nevertheless, the ticketing industry is not as badly hit as the accommodation or traveling industry.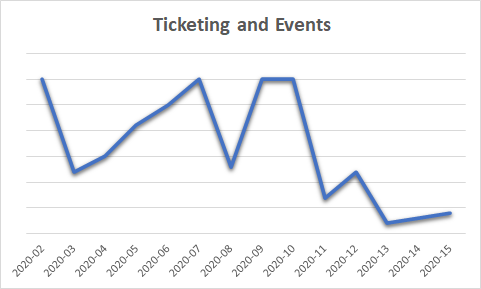 You need a fraud prevention system regardless of your industry
It's game changing for many industries due to the unprecedented highly infectious COVID-19 virus. In this outbreak, some industries have recorded skyrocketing sales, however some industries experienced the lowest days ever. Regardless of which industry you are involved in, you shouldn't forget that there is another shadow enemy still threatening you – the fraudster. These nefarious and unscrupulous fraudsters are not taking breaks during this deadly epidemic, they never went on furlough. Instead, they grabbed this exceptional opportunity to find more prey. As you can see from the chart below, the amount of fraud cases detected were increasing over the past few weeks.
It's crucial that you get yourself protected from being victimized by fraudsters. If you don't have any fraud prevention mechanism installed, you should seriously consider installing the FraudLabs Pro Fraud Prevention. We have more than 20 ready plugins and REST API, if you wish to customize the fraud solution yourself, available for your instant installation. And, it's free for any online business that has less than 500 validation per month. Fraud detection is no longer an optional feature, but an essential component to protect your business from fraud losses, at least something you can control as a merchant in this new normalcy.
Ready to start with FraudLabs Pro?
Get Micro plan for free, you can quickly explore and integrate with our fraud prevention solution in minutes.